Autotext and AutoCorrect in any program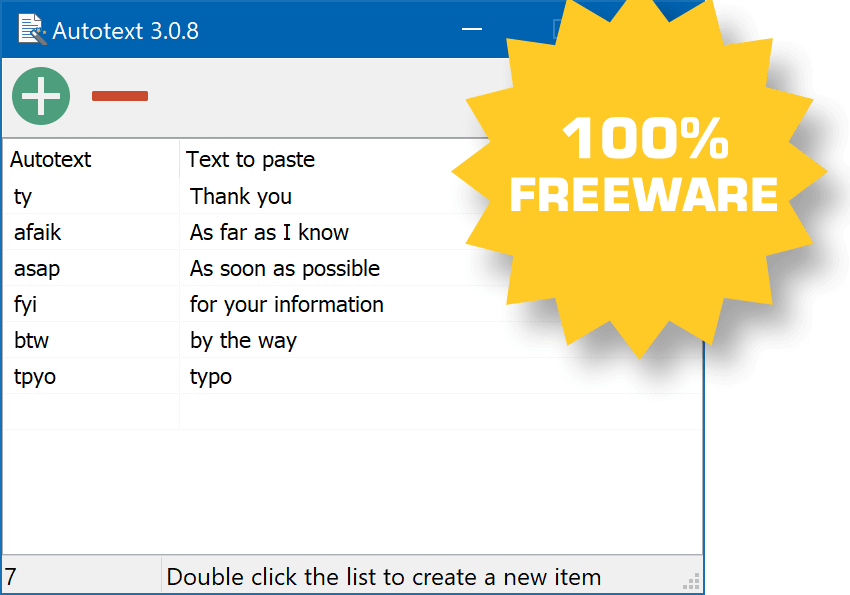 The AutoText Typing Assistant provides the Autotext functionality in every Windows program.
Just assign a text abbreviation to a frequently used phrase, sentence or paragraph and Auto Text will expand this common sentence each time you type the abbreviation.
Insert commonly used boilerplate text with ease.
Eliminate repetitive typing of the same text over and over again.
Work quicker and more accurately.
Increase efficiency by avoiding repetitive typing.
Streamline your workflow and save valuable time.
Eliminate typing mistakes.
AutoText is an "auto typing" Windows program and stores maximum 30 shortcuts to your common text fragments (email signatures, text snippets, frequently used sentences, common phrases, boilerplate templates) and quickly inserts them into your documents. It is an autocomplete/auto-replace MS Word feature, often referred as "AutoText".
For example, "ty" would be expanded to "Thank you for your email and your interest in our products." whenever you type the abbreviation.
AutoText works everywhere
You may know the Autocorrect feature by MS Office. The advantage of Autotext Typing Assistant is that it provides this functionality system-wide, so all your applications instantly become autocorrect-enabled.
AutoText works in all Email programs such as Outlook, Thunderbird, Lotus Notes and text editors such as WordPerfect, OpenOffice and even online applications like Google Docs or Writer. AutoText works with any Internet browser including Firefox, InternetExplorer or Opera.
Autotext  auto-completes your frequently used words and phrases anywhere. It makes typing faster and more intelligent.
Autotext is for Everyone
Autotext is an ideal utility for lawyers, technical support or sales staff, authors, secretaries, journalists, translators, document creators and programmers, in fact for anyone who uses a keyboard. Autotext supports Unicode characters for international language support.
Easy to use
This software requires any learning curve. Simply enter the phrase and its abbreviation. That's all. The whole process is mastered in a snap and it will save you hours of work.
Powerful and robust
While Autotext Typing Assistant is a Newcomer it is based on the rock-solid PhraseExpress Autotext Engine which is available for more than ten years and continuosly advanced.
Freeware
We give away the program free-of-charge. No strings attached. We want to provide a free alternative to our full-fledged professional text phrase software solution PhraseExpress.